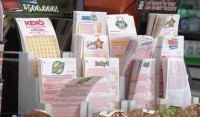 The 2017 fiscal year was a record year for the Michigan Lottery. Spokesperson Jeff Holyfield tells WSJM News the lotto raised nearly $1 billion for the state's schools. They reached $924 million, and they've got their eyes set on that $1 billion goal for 2018.

"We're hoping that as we continue to introduce new games and with the growing popularity of our online games, that we'll be able to hit that billion dollar mark," Holyfield said. "It's definitely a goal we've got, and we're working hard to get there."

Holyfield says 2017 brought record sales, in general, for the lottery. Of each dollar spent on a lotto ticket, 28 cents goes to schools, 60 cents goes to player prizes, 9 cents goes to vendors, and 3 cents goes to running the lottery.